WOW Fusion Facial with Micro-Botox
do you crave flawless, glowy skin?
What is WOW Fusion Facial with Micro-Botox?
Do you wish you could achieve a "retouch" effect you might find on photo applications – but in real-life? Allow us to introduce the WOW Fusion Facial, our number-one luxury treatment for helping you achieve and maintain the beautiful skin you deserve. 
Already endorsed by celebrities such as Kim Kardashian West, the treatment's trick lies in a ground-breaking device, the WOW Fusion, that enables doctors to apply solutions directly INTO the skin with ZERO pain. No other current treatment can consistently guarantee that level of precision.
As well as a total rejuvenation and hydration of your face, it's excellent for reversing problems such as:
Rosacea

Acne

Sun damage

Fine lines and wrinkles (on the surface of the skin around the eyes)

Enlarged pores (In fact, it's the only real solution available for closing pores – an ailment that even make-up can't hide)

Dull skin
Maintaining perfect skin is an investment in yourself and the WOW Fusion is the premium treatment available for this. If you've been disappointed by any number of expensive moisturisers or products and want to look your best at all times, you should give this serious consideration.
VieDerma is proud to be one of the first clinics to bring the WOW Fusion to the UK. Come and see what it could do for you today.
How does the wow fusion facial work?
Whereas many traditional skin treatments are either applied to the skin or injected below it, ReTouch Gold applies products into the skin for the very best, specialised results.
The system uses a "micro-channelling" device – the WOW Fusion – with 20 gold-plated micro-needles, each of which are finer than a human hair. Unlike traditional injections, you won't feel a thing. Each needle contains a custom high-end product, which is delivered (or "micro-channelled") into your skin at a precise depth.
As a result, our skilled physicians have even greater control and precision. The results are akin to a "retouching" effect that you might normally only see on computer screens using photo software, or photo filters used on applications such as Snapchat and Instagram.
Furthermore, because this innovative device uses 20 needles distributing solutions simultaneously, WOW Fusion can also treat large areas that would previously have been tricky to address.
The WOW Fusion can be used with a number of treatments and products including:
Freezing Toxins for Pore Correction – whereas this popular treatment is traditionally used for freezing facial muscles, it can now be applied into the skin itself. This helps to shrink and correct pore openings – the only recognised treatment to do so. Results are amazing.
Hyaluronic Acid & Dermal Fillers – this is used for hydrating, firming and filling the skin in the face, neck, hands and chest. Using the WOW Fusion device, hydration can now be supplied directly inside the skin, exactly where it needs to be.
Growth Factors – for boosting collagen production, resulting in younger, fresher skin.
Pigment Reducers – for treating sun damage such as discoloration.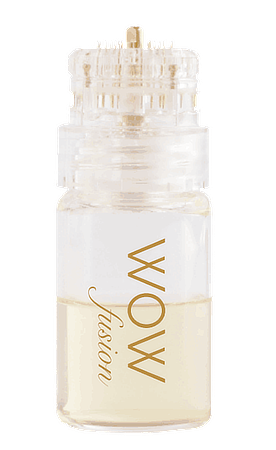 vie aquafacial
Find out more about our Signature AquaFacial, helping you achieve your dream skin today!
How long does wow fusion with micro-botox take to work?
The WOW Fusion is the premium method for applying a variety of top-end products into your face, neck and hands. How long it takes to work depends on your specific treatment but in many cases, results are instant with the products continuing to work over ensuing days. You'll be left with a crystal-clear complexion and super-smooth skin, which continue to get even better over the ensuing days.
Our doctor will discuss your needs and expectations with you during your consultation.
What is the downtime?
The hair-like fineness of the needles means that there is also minimal downtime as there is virtually no risk of swelling or bruising, which you may sometimes experience with traditional injections.
Does the wow fusion facial hurt?
There is no pain or discomfort at all. This is a high-end, luxury treatment. The gold-plated needles are so thin you won't feel a thing.
How many treatments are needed?
The key to perfect skin lies in its health, and of course, this requires continual maintenance and looking after. Repeat treatments are necessary but how often you'll need them depends on your specific needs. This will be discussed with you during your consultation.
While the WOW Fusion may be more expensive than other skin treatments, it is in fact far more cost-effective than splashing out on expensive moisturisers that can't achieve anywhere near the same level of results.
Any cons?
The WOW Fusion Facial is the very best, luxury treatment for skin quality currently available. As such, it is a little more expensive than other comparable treatments. However, it does work out far more cost-effective than subscribing to moisturisers that you may be disappointed with and which can't achieve the same level of results. You may even save a small fortune on specialised make-ups.
However, it is important to note that WOW Fusion is not a replacement for issues such as contouring, sagging skin or deep lines. Such problems will need to be addressed separately. However, it is a fantastic treatment for applying to your skin as a finishing touch. The icing on the cake, so to speak! 
sign up to our weekly newsletter
Stay in the loop with the latest trends, product launches and new treatments!