Dermalux LED Phototherapy
dermalux led phototherapy
your solution to perfect skin.
what is dermalux led phototherapy?
Achieve beautiful, radiant skin with Dermalux LED Phototherapy – an award-winning skincare treatment that harnesses the power of light for a glowing, healthy complexion.
Light Emitting Diode (LED) Phototherapy is a non-invasive treatment which targets specific non-thermal light to energise cells which triggers a cascade of bio stimulatory responses. It is scientifically proven for a wide range of indications including skin rejuvenation, acne and pigmentation to wound healing, psoriasis and pain relief.
LED Phototherapy is now recognised as an essential skincare treatment due to its versatility and role in the foundation of skin optimisation and good skin health. 
Dermalux LED Phototherapy can assist you with:
Skin rejuvenation
Evening & brightening skin

 

Pigmentation

 

Acne
Redness and inflammatory skin conditions
Psoriasis

 

Wound Healing
Musculoskeletal pain
Dermalux can be integrated in a multitude of ways to transform any treatment menu; as a targeted standalone, an express skin service, a bespoke combination protocol, pre-treatment skin preparation, post treatment recovery and part of an ongoing skin health programme. 
How does dermalux led phototherapy work?
Light does many wonderful things to our bodies. It helps us to produce essential Vitamin D, makes us feel good and makes our skin flourish! 
LED Phototherapy is based on the principle that all living cells have evolved to absorb and be influenced by light. Light is a powerful energy and when applied correctly, has a significant impact on how we look, feel and perform. The mechanism of action is a natural response similar to that of photosynthesis through a process known as photobiomodulation. 
The human body has an amazing capacity to heal itself and light plays a crucial role. 
This treatment involves exposing the skin to specific wavelengths or nanometers from the visible colour and infrared (invisible) part of the light spectrum. Wavelength selection is crucial to the success of the LED treatment as it determines how effectively the light is absorbed. 
what does led phototherapy do?
Dermalux treatments can be customised to deliver combination of clinical probes blue, red and near infrared wavelengths for specific skincare results. Specifically, the different coloured wavelengths of lights perform the following functions:
Antibacterial action for treating acne and blemish-prone skin
Combats spots without irritation
Improves skin clarity
Calming effect for troubled skin
Boosts collagen and elastin production for fresher, stronger skin
Reduces fine lines and wrinkles
Increases hydration
Evens skin tone and texture
Revitalises and restores radiance
dermalux near infrared light
Advanced skin rejuvenation effects
Calms redness and irritation
Reduces age spots and pigmentation
Restores skin health
Ideal for the most sensitive skins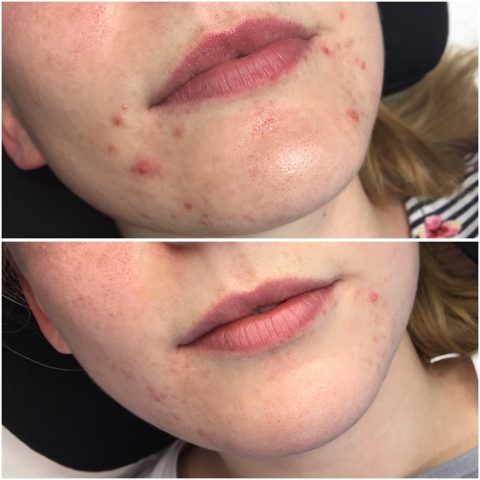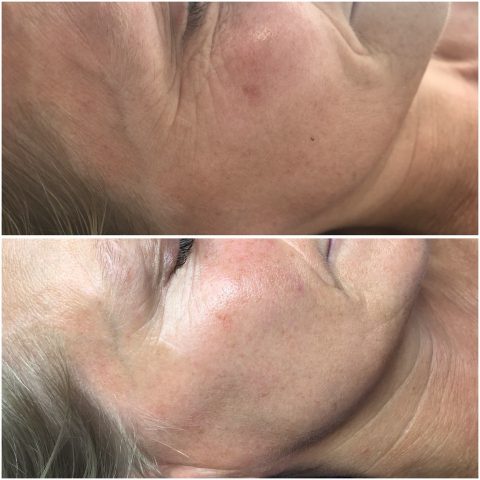 dermalux tri-wave therapy
For an enhanced and accelerated outcome, the advanced Dermalux Tri-Wave therapy is the jewel in the crown. It is able to combine different wavelength treatments simultaneously. These treatments are tailored specifically and uniquely to tackle your concerns. 
does dermalux led phototherapy hurt?
The Dermalux LED Phototherapy sessions are pain-free. In fact, they are very relaxing with proven mood enhancing benefits. During your procedure, just simply lie back, relax and allow your skin to absorb the energising light. What else could you want?
what is the downtime for dermalux led phototherapy?
What makes this treatment even better is that there is no downtime with the Dermalux LED treatments. It is a relaxing, non-invasive procedure. After your session, you simply get up and glow. You can go back to your normal activities and habits straightaway!
Occasionally, the skin may feel warm and appear red in the treated area. This is due to the increased blood circulation but it should be expected to return back to normal within 1 to 2 hours. 
dermalux led flex md

flexible. portable. powerful.
The Flex MD is powered by the same unique and revolutionary ceramic LED technology as the Tri-Wave MD system to enable higher optical power output. Engineered for maximum power with less heat to ensure a safe, consistent performance and reproducible outcomes with every treatment. 
The Flex MD is a multi-functional, versatile design for face and body application. The lightweight LED array is secured in the base unit to ensure optimum treatment delivery for the face and can also be positioned flat directly onto the body.
sign up to our weekly newsletter
Stay in the loop with the latest trends, product launches and new treatments!