Perfect Peel
the asnwer to crystal-clear, flawless skin.
what is the perfect peel?
Discover the answer to healthy, crystal-clear skin with The Perfect Peel, a revolutionary, "super-powered" facial peel that fights ageing as well as concerns such as acne scarring. In just one week, The Perfect Peel transforms skin, leaving you looking younger, fresher, and more radiant, while also improving your skin's health from deep within. As part of a skincare regimen, it is "perfect" for helping you maintain skin in its peak condition.
Containing the ultimate anti-ageing ingredient glutathione (the first peel ever to do so), The Perfect Peel can be used to combat the signs of ageing as well as treating a number of skin concerns, including sun damage and acne scarring.
Benefits include:
lightening and brightening your skin
improving your skin's overall tone and texture
softening the appearance of fine lines and wrinkles
stimulating the production of collagen for added firmness
reducing pore size
reducing acne scarring
combating skin concerns such as acne, melasma, sun damage and age spots
how does the perfect peel work?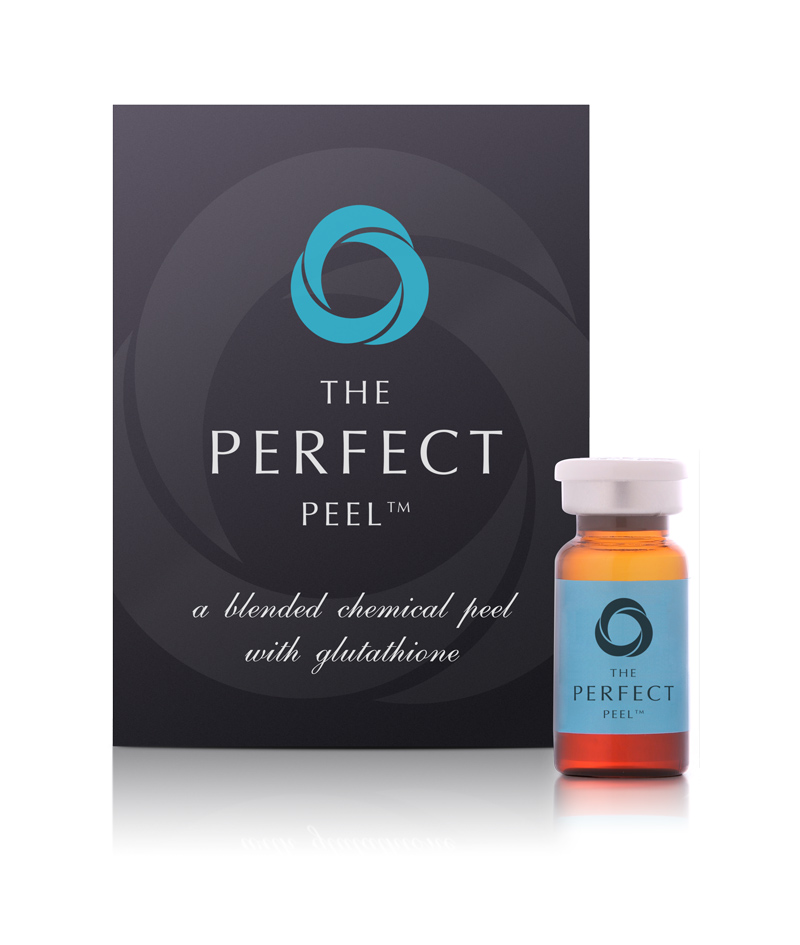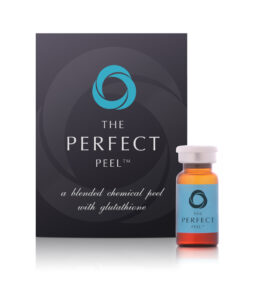 The Perfect Peel is a "medium to deep" strength peel, which means it uses chemical agents to inflict controlled damage both on the skin's surface (epidermis) and beneath it (in the papillary dermis). This powerful approach improves the skin's underlying health by causing it to regenerate from within, and stimulating new production of collagen, elastin and hyaluronic acid. Skin becomes tighter and stronger.
The Perfect Peel combines a number of premium ingredients, minerals and vitamins, all of which serve a specific purpose in skin rejuvenation.
The main weapon is a revolutionary antioxidant known as glutathione – this is the strongest antioxidant available on the planet at the moment and a formidable opponent in preventing premature wrinkles. Our bodies naturally produce glutathione, but as we age our supply gradually diminishes. External factors such as sun exposure and environmental pollution can also deplete levels. Glutathione neutralises free radical damage, replenishes the skin, and prevents sun damage. It also works as a skin whitening agent, blocking the "biosynthesis" of melanin, which can otherwise cause dark patches on the skin.
Other ingredients play important roles. Kojic acid is a lightening agent that increases collagen and elastin levels. TCA, phenol and retinoic acid reduce wrinkles and correct pigment problems. And salicylic acid exfoliates the skin and reduces inflammation.
micro-needling
Find out more about our Microneedling treatment and how it can help you improve your skin!
how long does the perfect peel take to work?
Perfect Peel uses intense, high-end ingredients, ensuring you'll see results after just one session. Treatments themselves last between 20 minutes and one hour.
what is the downtime for perfect peel?
Total downtime is around seven days. Immediately after treatment, your skin will appear red and may feel a little tight. Your skin will then typically begin peeling around the third day. Between days five to seven, the peeling should have stopped. At this point, the appearance of fine lines and wrinkles will be visibly reduced, and areas suffering from Melasma, sun damage and hyperpigmentation will all be lightened.
During the healing phase, a home-care moisturiser should be applied and we provide you with a special aftercare kit and instructions. This will hydrate the skin and reduce the appearance of the peeling.
how many treatments of perfect peel do i need?
This will ultimately be governed by your own goals and needs, and whether you are treating a specific skin condition.
For general anti-ageing concerns, you will be amazed at the results you can achieve after just one session. However, you may wish to have repeat applications once every four weeks following your first treatment, until you have achieved your desired outcome. After then, we recommend follow-up procedures every three to four months, as a means for maintaining your results and helping protect against further ageing and environmental damage.
This routine may vary if you are treating a specific skin condition and your practitioner will discuss this with you as well as monitoring your progress. As a guide, a series of three to three treatments applied once every four weeks is probable for more severe skin conditions such as Melasma and active acne.
If you are treating acne scarring, a series of three to four peels every four weeks will likely be required. Again, you will be advised during your consultation and monitored in free reviews.
what areas is the peel best suited for?
We truly believe the Perfect Peel lives up to its name – it is one of the best chemical peels available. It is most commonly used on the face, neck, chest and hands. That said, it can be applied to other areas of the body, but results may vary. This will be discussed with you during your comprehensive, no-obligation consultation with our skin expert.
sign up to our weekly newsletter
Stay in the loop with the latest trends, product launches and new treatments!