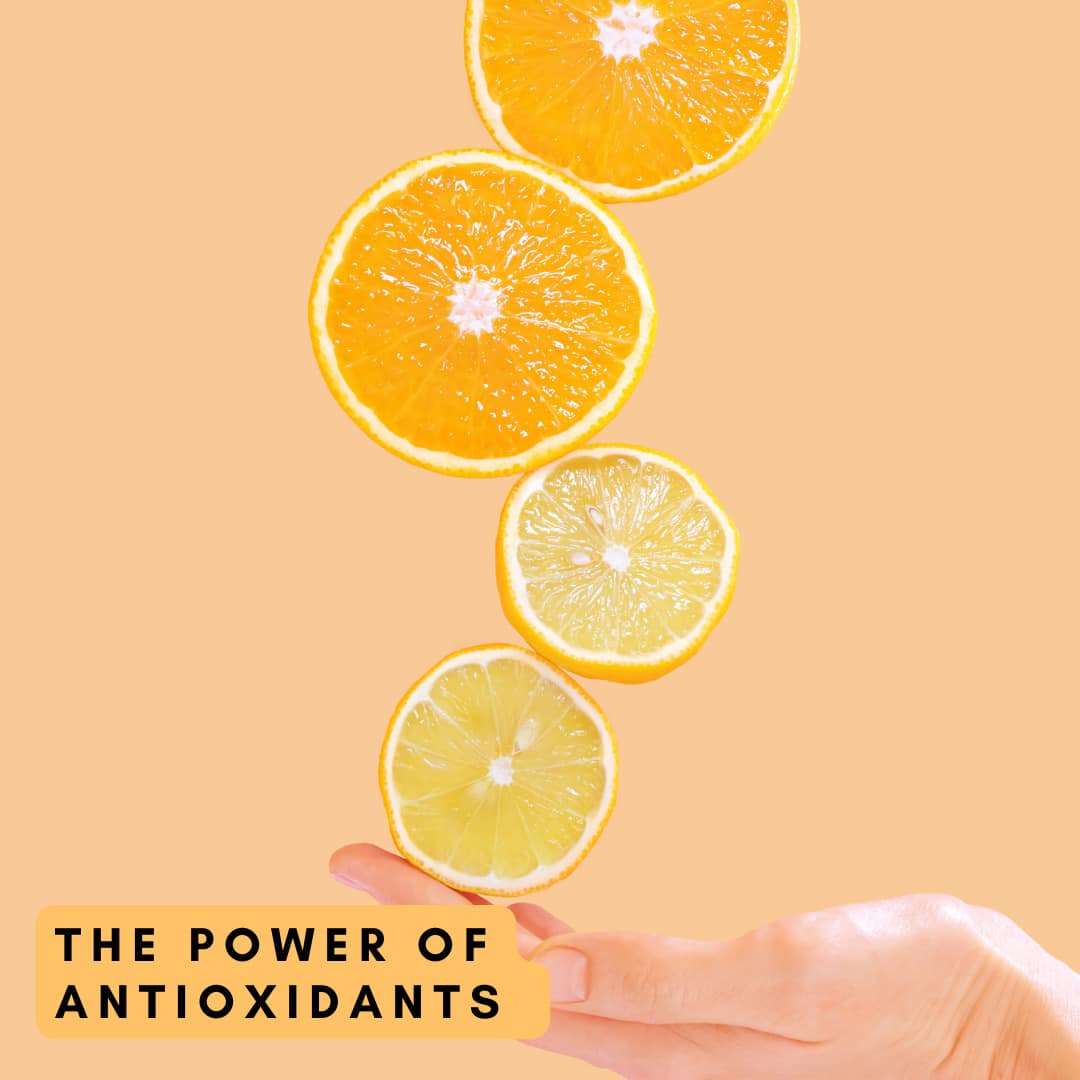 The Role of Antioxidants in Skincare
antioxidants | all you need to know
Antioxidants are being mentioned everywhere nowadays, be it in food and skincare adverts and on packaging as well. In this blog we look at the role of antioxidants in skincare. So, what are they and how are they beneficial for your skin?
What are antioxidants and why are they so important in skincare?
Free radicals, which stem from everyday pollutants like household cleaners, as well as our own cell metabolism, are responsible for the depletion of collagen in our skin. This breakdown of collagen can result in fine lines and wrinkles, sagging skin and dark spots.
Antioxidants are basically substances that protect against oxidative damage caused by environmental factors such as UV rays and pollution. They are important in skincare because of their ability to limit production of free radicals and to neutralise them when they come into contact with your skin. This makes their role vital in skincare.
Vitamin C, also known as L-Ascorbic Acid is a highly effective antioxidant that protects against free radicals by neutralising them. Vitamin C helps to regenerate the skin and repair broken or damaged cells. Vitamin C is not only one of the most effective antioxidants, but is also a key ingredient that aids anti-aging. The high acidity of Vitamin C means that, when applied, the skin is prompted to naturally repair itself by quickly producing collagen and elastin- structural proteins which keep skin healthy.
Vitamin E
Vitamin E comes in many forms. The term actually refers to a group of compounds which have great antioxidant benefits. Vitamin E is an incredibly protective, naturally occurring component in our skin. However, when our skin is damaged by external aggressors like UV rays, our natural vitamin E decreases. Vitamin E helps with cellular restoration which, not only makes it a great protective antioxidant, but a great healing product for skin concerns like eczema. Vitamin E helps with blood circulation which makes it a great anti-inflammatory, as well as this it helps to support your immune system. Vitamin E tends to come in oily serum or cream forms which may not be suitable for oily skin types as the heavy product may clog pores and cause break outs.
Recommendation:
We would recommend the ZO Skin Health 10% Vitamin C serum and the Alumier MD Vitamin C & E serum. Typically, most vitamin C serums come paired with Vitamin E as the two vitamins work together to recycle the skin in a way that maximises the effects of both products.
When looking into the role of antioxidants in skincare, you will inevitably come across Retinol.  This is a form of Vitamin A, an ingredient which speeds up cellular turnover and collagen production. Retinol is commonly known as a correctional antioxidant because of its ability to accelerate skin renewal. Retinol helps to smooth fine lines and wrinkles and to reduce the appearance of scarring and pigmentation.
When used with Vitamin C, the effects of retinol are maximised because of the complementary benefits both products have on the renewal of skin cells and collagen production. Retinol tends to be used by people over the age of 25 as this is when collagen production starts to decrease.
Resveratrol
Resveratrol is another potent antioxidant, that has been in the press a lot due to its great role in skincare as a great ally in the fight against the effects of ageing.  Resveratrol is a dual antioxidant as it protects against free radicals from external aggressors, but also helps produce naturally occurring antioxidants in your skin cells. It is a preventative measure to protect your skin against negative environmental stresses. Resveratrol is one of the best ingredients for anti-ageing because of its dual protective capabilities and it has also calming properties which minimise the appearance of redness.
Glutathione
One of the most powerful antioxidants is Glutathione, because it is made up of a combination of amino acids which naturally occur in every cell in the body. Its immense ability to fight off free radicals means it helps in the fight against ageing and treating some skin diseases.
Glutathione also has other benefits for your skin's appearance: it helps to brighten the skin's pigmentation and lighten dark spots; it enhances energy production and boosts your immune system. Studies have also shown that it can be used to help prevent the progression of cancer and reduce symptoms of serious life-changing diseases such as liver damage, Parkinson's disease and type 2 diabetes.
Treatments with Antioxidants
Our sister company, Vie Aesthetics, offers intravenous Glutathione booster shots which offer a quick way to deliver the antioxidant directly into your bloodstream, meaning the effects can be felt and seen much faster.
These can be combined also with our wellness IV drips, which contain a powerful cocktail of vitamins, minerals, and other supplements with antioxidant and anti-ageing properties to enhance the wellness of your skin and to promote wellness and health too.
This is the first peel to contain Glutathione and makes it one of the most powerful treatments that we offer here at Vie Aesthetics. This is a revolutionary, 'super-powered' facial peel that fights ageing as well as concerns such as acne scarring. In just one week, the Perfect Peel transforms the skin, leaving you looking younger, fresher, and more radiant, while also improving your skin's health from deep within. As part of a skincare regime, it is 'perfect' for helping you maintain skin in its peak condition.
The Perfect Peel at Vie Aesthetics not only includes glutathione but a number of premium ingredients, minerals and vitamins which serve a specific purpose in skin rejuvenation.
shop skincare
Expert, medical-grade skincare just for you!
Medical Grade SkinCare Products with Antioxidants
The role of antioxidants in skincare products is vital. So it is great news that you can also find Glutathione in products like the ZO Skin Health Retinol Skin Brightener and in consumable products like the Proto-Col Clinical ranges.
This is an incredible new product that has just landed on our radar. It is made up of collagen fibre pearls which are manually activated by droplets of Vitality Boosting Serum. When combined, the formula makes for a solution that targets anti-aging and strengthens the skin's defences against external aggressors. This is the perfect product for skin repair and restoration.
The 10% Vitamin C Serum from ZO Skin Health
This serum provides your skin a potent shot of pure vitamin C that is stabilised, and helps to brighten and re-texture the skin. This water-free formula instantly self-activates upon contact with skin's natural water content, maximising exfoliation and brightening effects to reveal radiant, even-toned skin.
EverActive® C&E from Alumier MD
This is a high-strength vitamin C (15% Lascorbic acid) and vitamin E treatment serum that reduces the appearance of fine lines and wrinkles, revitalising skin. The antioxidants, vitamin C and vitamin E, neutralise free radicals and protect against UV damage, while vitamin C and MATRIXYL™ Synthe'6™® strengthen and brighten your skin. Many vitamin C serums oxidise in their bottles, turning a brownish colour while they are on the shelf or at home. When oxidised, the vitamin C is no longer beneficial to the skin. EverActive® C&E stays fresh because you only mix the vitamin C into the serum when you're ready to use it.
So, it is obvious that when looking for solutions and medical-grade products, it is useful to know your antioxidants. However, the best way to get it right, is to have a proper skin consultation with a skin specialist, who will educate you about your ingredients and the best skin care regime. At VieDerma, our highly skilled Skin Specialists will analyse your skin and put together a tailored and individualised skincare plan for you.
Don't guess and waste time and money on products that may or might not work. Put your trust in the experts
We look forward to hearing from you!
Get in touch today!
If you have any enquiries or questions, please complete the form below and we will be in touch as soon as possible! We look forward hearing from you!
sign up to our newsletter
Stay in the loop with the latest trends, product launches and new treatments!