Teeth Whitening
Achieve your perfect smile.
Get up to 12 shades brighter looking teeth with brand new Teeth Whitening treatment.
In partnership with Perfect Smile, we are bringing three incredible packages to help you look and feel your best self with a brighter smile that is bound to boost your confidence.
how does teeth whitening work?
Cosmetic teeth whitening uses hydrogen peroxide (a bleaching substance) to break down stains on the teeth.
As the stain molecules start to break down, they detach from the tooth, leaving a brighter-looking smile. Each of our packages use hydrogen peroxide(< 0.1%) bleach in combination with the latest LED Light for activation.  Our treatments make it possible to get up to 12 shades whiter teeth, depending on the number of sessions that you opt for.
It is important to note that following aftercare protocols will enable you to achieve optimal results.
what packages are available?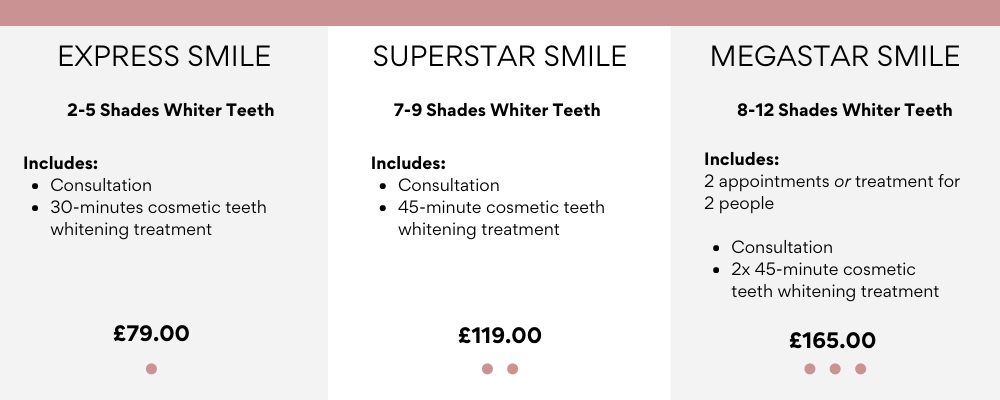 In collaboration with The Perfect Smile, all teeth whitening treatments are conducted by fully qualified expert Markus Weise who has worked with our team at Vie Aesthetics Germany for over 4 years.
As a consequence, Markus from Perfect Smile operates on the same level as all of our Vie Aesthetics clinics by delivering a hybrid of luxury and wellness with the most advanced technology for long-lasting and natural-looking results.
is there any downtime with teeth whitening?
There is no downtime to any of our treatments with Perfect Smile. You can enjoy your new white, shiny teeth straight away!
How many sessions of Teeth whitening do i need?
The number of sessions you may need varies between individuals.
The number of treatments that you opt for will be dependent on your goals and history with similar treatments.
Typically, we recommend starting with the Superstar Smile package if you have never had similar whitening treatments before, however, this can be discussed with Markus during your consultation. 
sign up to our weekly newsletter
Stay in the loop with the latest trends, product launches and new treatments!