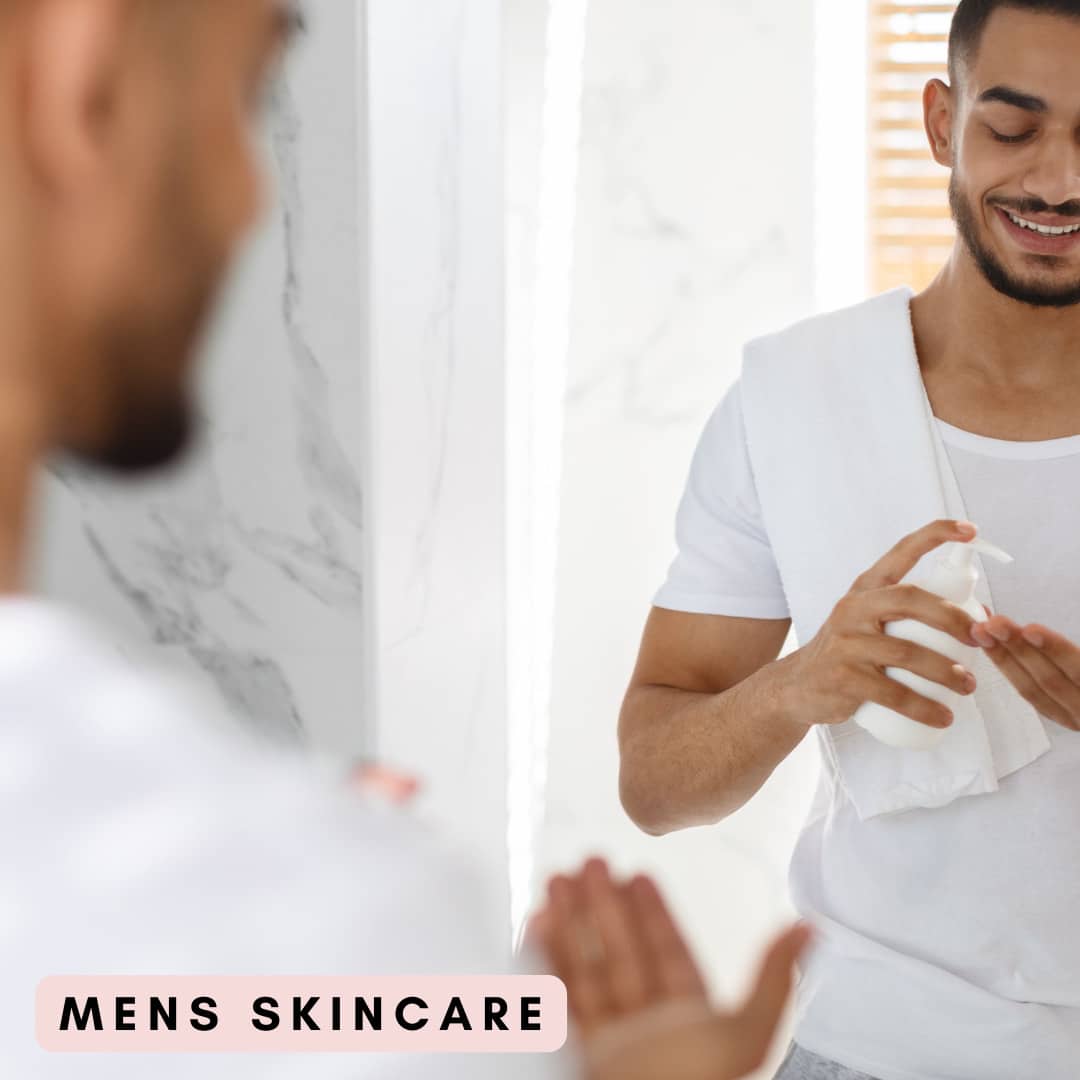 Men's Skincare | Breaking the Stigma
Skin care isn't only for women.
Men need to also take care of their skin. Soap and water may be all you think you have time for but a simple 3-step routine doesn't have to take hours or break the bank. We are here to tell you what products to focus on and which ones can really make a difference. After cleansing, of course, it is important to use face cream. The message that all dermatologists and Skin Specialists want to through to men across the world is skincare matters.
As compared to women, male skin has more collagen and elastin that makes their skin thick and firm, hence, the signs of ageing appear much later compared to women. Therefore, it is important for men as well to take care of their skin by following a cleansing routine.
We understand how frustrating it can be to filter through all the information online so we are here to help you. We can help you understand the ingredients the truth behind their claimed benefits.
Why? Because it will keep your skin looking better, fresher, and younger for longer – as well as ward off irreversible sun damage.
If you think telling someone that you 'moisturise' seems too girly, just call it 'thirst-quenching' your skin. Moisturising has so many benefits including helping your skin from drying out (every skin type, including oily skin can get too dry) and will work to prevent signs of ageing such as fine lines and wrinkles down the line. It also keeps your face looking generally smooth and touchable – what else could you want?
But on top of that – men shave, and shaving is a form of exfoliation. Moisturising after exfoliation can help soothe the skin as well as help restore its protective barrier.
To help you, we have composed a list of our favourite anti-ageing, hydrating face creams:
DIBI Milano Hydra Perfection Active Moisturising Cream – this amazing formulation helps you to combat dry and dull skin. The nourishing formula soothes and hydrates your skin, protecting it from the effects of ageing and the overall environment.
DIBI Milano Acid Infusion No-Age Restructuring Cream – with this incredible product you can reduce the appearance of under-eye bags and dark circles. The luxurious cream soothes and moisturises the skin, creating a lifting effect of the eyelids. Its pure Glycyrrhetinic Acid + Vitamin F rich formula also helps you protect the skin from signs of chrono- and photo-ageing.
AlumierMD HydraLight Moisturiser – this moisturiser has a light moisturising formula that nourishes and improves skin texture using soothing and hydrating ingredients. Powerhouse peptides firm and strengthen the skin, reducing the appearance of fine lines and wrinkles, while antioxidants provide protection from free radical damage.
ZO Skin Health Hydrating Creme – this cream works to relieve symptoms of dry skin, while calling the skin to soothe visible irritation and replenishing the skin's natural moisture to aid in the recovery process. It can provide many benefits to men's skin such as reducing itching, restoring hydration and calming redness. If you have more sensitised, red skin, this is the perfect solution for you!
DIBI Milano Hydra Perfection Active Moisturising Cream

£

58.00 Add to cart
Now that you have your face moisturiser and you are hydrated and plump, it might be a good idea to consider an under-eye cream/serum.
Many Skin Specialists, including us at VieDerma, will tell you that eye serums are an essential tool in your skincare armoury. These are lighter than a cream and more gentle in the sensitive area around your eyes.  These products usually contain an array of uplifting ingredients such as avocado, Hyaluronic Acid, and many more, packed with vitamins to help you look refreshed and fresh-faced, ready to face the day.
Why should I use one? And do I need it? In short, because you look like you have been on a 3-day bender during your 9 am stand-up every morning. Under-eye creams and serums are all about hydrating the skin and combatting fine lines, wrinkles and dull skin. We have selected a few of our favourites so you don't have to worry about navigating through the endless products on the Internet.
DIBI Milano Lift Creator 3-in-1 Eye Gel– this works to revitalise your eyes, giving you visibly 'lifted' eyes. It reduces the appearance of under-eye bags and minimises dark circles and fine lines for a well-rested and radiant appearance.
AlumierMD AluminEye – this is a luxurious eye cream that helps improve elasticity and firmness, while diminishing the appearance of fine lines, dark circles and puffiness. Rich in peptides and vitamins, it can immediately lighten the appearance of under-eye darkness.
ZO Skin Health Eye Brightening Cream – this is specially designed for use around the delicate eye area. It helps you minimise the signs of ageing, which includes reducing the appearance of puffiness, dark circles and fine lines. It is the perfect formula for sensitive, red skin, helping you achieve a healthy feel to your skin.
And there you have it, a complete, detailed guide to anti-ageing and effective face creams for men. When it comes to staying healthy, men love to talk about fitness and eating right. Too often, however, men neglect taking care of a specific body part that is essential to good health: our skin. It is the cold, hard fact that you need skincare to achieve healthy and beautiful (or handsome, if you prefer) skin.
So, it is time to go beyond the beard..
Get in touch today!
If you have any enquiries or questions, please complete the form below and we will be in touch as soon as possible! We look forward hearing from you!
sign up to our newsletter
Stay in the loop with the latest trends, product launches and new treatments!